Players That Have The Highest Salary in Football
Now sports disciplines are very popular. More and more people every year watch the matches of different teams in different sports disciplines. Thanks to this, you can get a huge adrenaline rush and a lot of positive emotions. Due to the fact that so many people are interested in sports disciplines, various sports clubs can receive more and more funds. One of the most popular sports disciplines now is football. It is thanks to such huge popularity that professional football players get the opportunity to receive a lot of money just for playing this sport.
Yes, it is worth saying that now more and more athletes with worldwide popularity can earn a lot of money. Their income is measured in hundreds of thousands of dollars, and sometimes even in millions of dollars. With such money, athletes can order not only due to their own achievements on the football field but also due to the fact that they are filmed in many commercials and cooperate with well-known world companies. If you've ever wondered which football athletes make the most money, then you should definitely keep reading. In this article, we will talk about which people have the highest salaries in football.
List of Players with Best Skills and Greatest Salaries
The First Place Takes Leo Messi
We should start with Leo Messi. This athlete has had an extremely difficult year this year as he had to say goodbye to his favourite team, that is Barcelona. The athlete's contract ended, and his leadership did not want to continue for certain reasons. Therefore, he had to look for a new team and the whole process was quite successful. Immediately after completing his period in Barcelona, ​​Leo Messi moved to another football club namely Paris Saint Germain. Now, this football club is considered one of the strongest in the world, and all because now some of the most professional and experienced athletes have gathered there.

So, if you go back to paying for the game of Leo Messi, then it should be said that in this club he receives much more money than he received in the previous club. So, while playing in the Barcelona football club, Leo Messi received his $ 92 million a year.
But this figure increased significantly after moving to Paris Saint Germain. Thus, today his money salary is 126 million dollars. Thanks to this, as of last year, Leo Messi is considered the highest-paid athlete worldwide.
The Second Place Takes Cristiano Ronaldo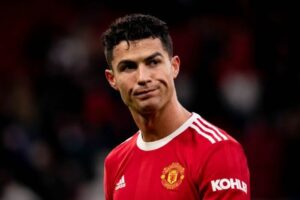 The next place is rightfully occupied by Cristiano Ronaldo. All because this athlete is considered one of the best athletes in the world. Many experts in the sport believe that Cristiano Ronaldo is also one of the most experienced and skilful athletes in the history of football.
Cristiano Ronaldo went through many football clubs who paid him huge amounts of money. Yes, this football athlete was able to start his career in the English team Manchester United. There, this player was able to get the first skills, as well as show the world his great skill. Further, this football player moved to the Real Madrid team, in which he has come a long way. Yes, it was in this sports club that the player was able to demonstrate to the whole world his outstanding skills, which surpassed all other players. It was also thanks to Cristiano Ronaldo that this football club was able to win the Champions League several times in a row.
It should be said that even after a long period at Real Madrid, Cristiano Ronaldo moved to another football club, namely Juventus. The transfer amount was huge and amounted to $100 million. It should be said that now this player occupies the second position among the list of the most paid money players in the world because he receives 31 million euros annually. This amount can be even more dependent on the indicators on the field.
The Third Place Takes Neymar Jr.
Another highest-paid player in the world is Neymar Jr. If we were to make a list of people who receive more money in France, then this player would definitely be in the first place. All because he shows amazing results while playing football. Neymar Jr. is now a member of the Paris Saint Germain football club.
Yes, it is worth saying that today, Neymar Jr. can receive up to $2 million a week. But this is not a permanent salary. This is explained by the fact that this player receives a lot of promotional offers. And that is why his money earnings are growing significantly compared to other popular and professional football players. Yes, Neymar Jr. on an ongoing basis, cooperates with a variety of sportswear brands, as well as companies producing a variety of care products. This is just one of the few that Neymar Jr. can also make money.
It should also be said that he is Neymar Jr. receives even more money than the same Mbappe. Although, as we all know, Mbappe shows no worse results than Neymar Jr.
The Fourth Place Takes Antoine Griezmann
Another football player who makes a lot of money from this sport is Antoine Griezmann. Many people know this professional athlete as a person who shows outstanding results on the field. In addition, it is worth saying that many people can remember him due to the victory of the French team at the World Cup. It was then that Antoine Griezmann showed himself to be an extremely good leader and strategist, who was able to effectively organize the work of the whole team and lead it to victory.
Now, this player is a member of the Paris Saint Germain team, which is considered one of the most powerful in the world. Here he receives about 3 million euros of salary every week. This is a huge amount, which is justified because the player shows outstanding results and achieves the indicators that they want to see from him.
Go and Fund Out More About This Sportsman
Now you know who the most paid players in the world are, as well as how much money these athletes receive. If you want to know more about these people, then you should definitely watch their games!